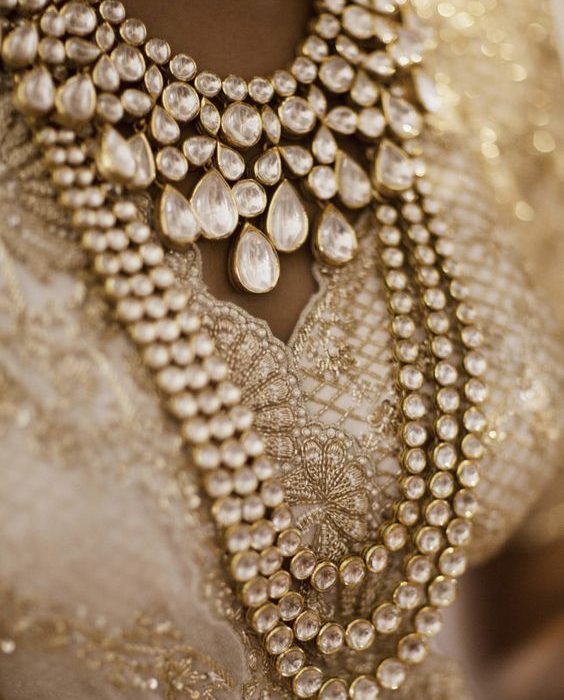 Hi Brides-to-be,
Hope you're having a lovely day! Today's blog is all about knowing how to wear your jewellery, in particular necklaces! Indian culture includes many different types of accessories and necklaces especially, come in a wide range of lengths and styles. This blog is about the different necklaces available to wear, when and how to wear them including on your wedding day!
There are 6 main styles often worn by a bride, these are:
Collar- Tightly around the neck
Choker- Tightly against the base of the throat
Princess- On the collarbone
Matinee- Between the collarbone and the bust
Opera- On the bust or an inch/two below
Rope/Lariat- Wrapped to sit on or just below the centre of the bust
A collar or choker tends to work much better with a high neckline. A choker will work beautifully on a long, thin neck, however if you a shorter neck it can make the neck appear wider than it really is.
If you are of tall or average height than a necklace of any length will most likely suit you depending on your face shape and neckline. If you are shorter in height, long necklaces can sometimes be overwhelming and in chunky designs.
If you have a round face shape, a longer necklace with a pendant attached to it, makes the face appear slimmer and portrays a slimming "V" around the base of the face as it glides away. If you have a heart-shaped face then shorter necklaces are a better option as it shows a smoother look.
A quick way to figure out the best necklace length for you is to, measure the extended length of the necklace you wear most often. It is likely this is the most flattering length for you.
Hope this helped ladies, don't forget to choose what you love best!
Rohita X